Central Florida's Polk County is the ultimate outdoor destination in Florida, and is packed with thrilling adrenaline pumping activities and extreme sports to help you leave your comfort zone! So leave the tea-cup rides behind, strap in and get ready for the ultimate, active Florida vacation.
Top 10 Adrenaline-Rush Activities in Central Florida
1. Skydiving
Time to check this one off the bucket list, and nothing quite gets the adrenaline pumping like jumping out of a plane at 14,000 feet above sea level. Jump Florida Skydiving, has been a staple for skydiving in Florida for years, and wins tons of great reviews from first-timers and seasoned pros alike. There are different altitudes you can choose to jump from, and they offer photo and video packages, so you'll have the proof! First timers will take a tandem jump, and if you have made a tandem skydive before, the team can help you get your skydiving license (AFF).
Located in Lake Wales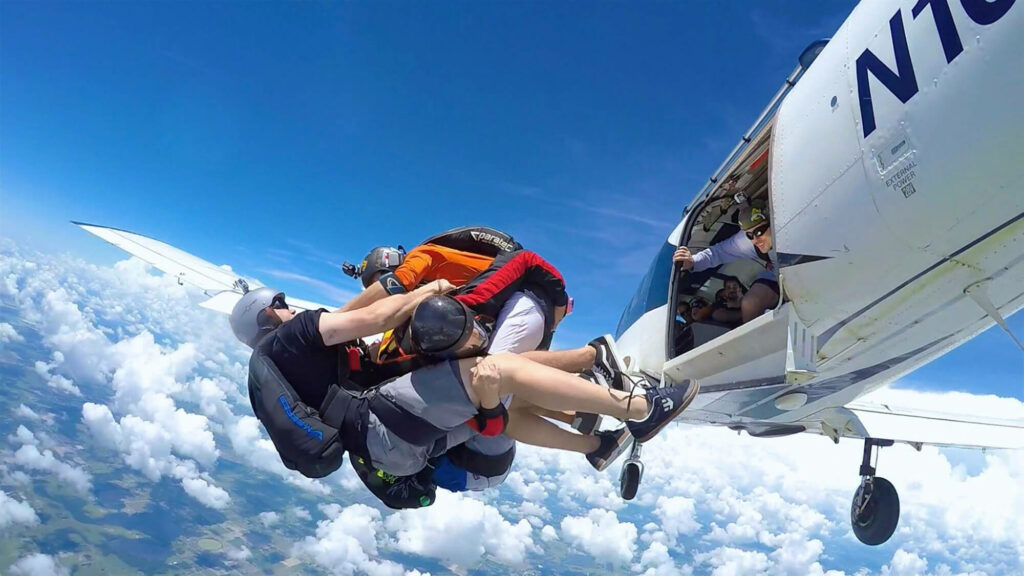 2. Cable Skiing
For a truly exhilarating experience for all ages why not try cable skiing? Unlike being attached to a boat, with cable skiing you can fly around the lake multiple times without stopping for air! Elite Cable Park in Auburndale has eight cables running at the same time. Riders will have the chance to waterski, wakeboard, and kneeboard, and make some jumps on the ramps. First timers will get a personal one-on-one training before hitting the lake.
Located in Auburndale
3. Off-Roading
If you fancy yourself as a Ricky Carmichael, or just want to experience Florida's natural trails in a killer vehicle then Bone Valley ATV Park is a great option. Bone Valley provides acres of ATV and motocross trails, with 15 trails, hill climbs and free riding areas for dirt bikes, four wheelers and side-by-sides. Bring your own vehicle or rent one on-site with Revolution Rentals.
Located in Mulberry
4. Experience Aerotow Hang Gliding
As seen on the Today Show and ABC News, Wallaby Ranch in Davenport, not far from Disney World, is one of America's original locations for aerotow hang gliding. The plane tows you in your glider up to 2,000 feet, where you'll soar over Central Florida getting a whole new view of the world below. And don't worry if this is your first time, during a Tandem Discovery Flight, on-site instructors will show you the ropes!
Located in Davenport
5. Wakeboarding
Central Florida is truly the Water Ski capital of the USA and number 1 for extreme water sports. Ski Fluid offers a range of thrilling boat-towed water ski activities including wakeboarding and ski jumping lessons over the beautiful Lake Grew.
Located in Polk City
6. Defy Gravity in Lakeland
If you've ever wanted to be an American Gladiator, now is your chance! Your ultimate indoor adrenaline-rush activities for all ages, Defy in Lakeland offers ninja obstacle courses, extreme dodgeball, super trampolines, battle beams and lots more.
Located in Lakeland
7. Power Over the Winter Haven Chain of Lakes
Winter Haven Water Sports is your stop for jet skis, wakeboarding and CraigCat compact power boats. Book a wakeboard lesson, learn some expert tricks and get into the air. You'll experience Winter Haven's famous Chain of Lakes like no-one else!
Located in Winter Haven
8. Airboat Ride
Get propelled over the Florida waterways while strapped to a giant V8 powered propeller. Florida is known for its spectacular and exhilarating airboat tours, and Central Florida has a wide selection of great tours on offer, with some boats reaching up to 600 horsepower.  Some of our favorite tours are with Guy Harvey's Camp Mack, Alligators Unlimited Airboat Tours, and Westgate River Ranch.
Located in Lake Wales
9. Endurance Mountain Bike Ride
Rent a Mountain Bike or bring your own, and bike over 13 miles of rugged terrain at the former phosphate mines at Loyce E. Harpe Park. Loyce E Harp will test the endurance of even the most experienced mountain bike rider. Bike Rentals are available in Lakeland from LeyRoys Bikeworks.
Located in Mulberry
10. See one of the World's Most Thrilling Air Shows
We round off your top 10 adrenaline-rush activities with one of the world's premier air shows. At Sun 'n Fun watch fighter jets as they scream overhead, or marvel at some of the world's greatest aerobatics performers performing impossible stunts. Sun 'n Fun attracts enthusiasts and spectators from all over the world. The show is held every spring.
Located in Lakeland
Ask The Visitor Center Staff!
Like to know more? Open our online chat during the day and the friendly Visit Central Florida visitor center staff will be more than happy to answer any of your questions!
Looking for more things to do in Central Florida? Check out our Things To Do Section or follow us on Instagram