Westgate River Ranch Resort & Rodeo Luxury Glamping Resort
Tucked away on some of Florida's last untouched land next to the Kissimmee River lies Westgate River Ranch Resort & Rodeo — a secluded Old Florida dude ranch where the stars shine fiercely every night — featuring Glamping Tents, RV Campsites, Luxe Teepees and brand-new Conestoga Wagons.
This charming, one-of-a-kind dude-ranch is located on one of the trails where Florida cowboys herded cattle and moved them to market. Despite the perception of the American cowboy being unique to the Western United States, the very first American cowboys roamed the state of Florida. Westgate River Ranch Resort & Rodeo offers visitors an opportunity to experience a piece of Florida's cowboy history where the American cowboy tradition began.
Glamping at Westgate River Ranch
The resort intertwines Old Florida history with the unique, modern-day experience of Glamping. Set under or close to the trees and away from the hustle and bustle, retreat to "glamorous camping" where everything is set up for guests. A perfect option for couples to getaway, bond with the family or glamp with friends, Glamping comes complete with a campfire and your Personal Glamping Concierge service. While typical camping involves roughing it, Glamping combines a spacious, comfortable and luxurious stay without sacrificing integrating one's self in the beauty of nature.
Along with the new Conestoga Wagons, the resort offers Glamping tents and Luxe Teepees, both are equipped with heating and air-conditioning, full furnishings, upgraded linens, and a personal concierge to cater to guests' every whim. Guests' Personal Glamping Concierge will answer all of their Florida Glamping questions, help schedule Ranch activities and provide everything needed to make your stay more comfortable and enjoyable.
Through the Personal Glamping Concierge service, guests enjoy luxury linens; towels and complimentary toiletries for their private bathroom facility; extra blankets upon request; a nightly campfire lit by our staff; firewood delivery; coffee, tea and juice service delivered each morning; and much more.
A truly extraordinary Glamping experience awaits at the Ranch with the arrival of the new Luxe Teepees, which combine the ultimate outdoor adventure with all the comforts of a spacious and luxurious villa full of upscale amenities.

Each Luxe Teepee offers an amazing 651 square feet of space, sleeps up to four guests and boasts a variety of unique amenities such as a double-sided stone rock hearth fireplace, two leather chairs with authentic cowhide ottoman, luxury linens, plush towels and toiletries, porcelain cast iron claw bathtub and shower, two rocking chairs, a private patio deck and propane grill. With the addition of a private bathroom with vanity and storage, air conditioning and heating, microwave, mini refrigerator, dining table and chairs, solid wood dresser, pullout couch and electrical outlets, the Luxe Teepee is far from roughing it.
River Ranch Activities
When families aren't relaxing, they can enjoy a myriad of activities, including horseback riding, airboat rides and pontoon boat rentals, a Petting Farm, Swamp Buggy rides, archery, trap & skeet shooting, and some of the best hog hunting in Florida,… amongst other adventurous activities.

Dining at the Ranch
When it's time to refuel after a fun day on the ranch, families will be able to enjoy mouth-watering BBQ at the riverside Westgate Smokehouse Grill.
Saturday Night Rodeo at River Ranch
We can't fail to mention, the Saturday night hayride dinner and Westgate Rodeo and Street Party. This famous Central Florida rodeo draws rodeo athletes from all over to compete in trick riding, barrel racing and bull riding. 8 seconds may not seem like a long time, but it's an eternity to a bull rider trying to stay on a bucking bull. Be mesmerized by the excitement of the Saturday Night Rodeo at Westgate River Ranch Resort & Rodeo for an evening of family fun. Rodeo athletes from across the region compete weekly at the 1,200-seat arena in trick riding, barrel racing, and bull riding. The River Ranch rodeo is a fan favorite to view talented contestants and enjoy a patriotic tribute to our armed forces. If you want to try bull riding yourself, take a spin on our Mechanical Bull. Or get your feet moving to the lively Dance Party just outside the River Ranch Saloon.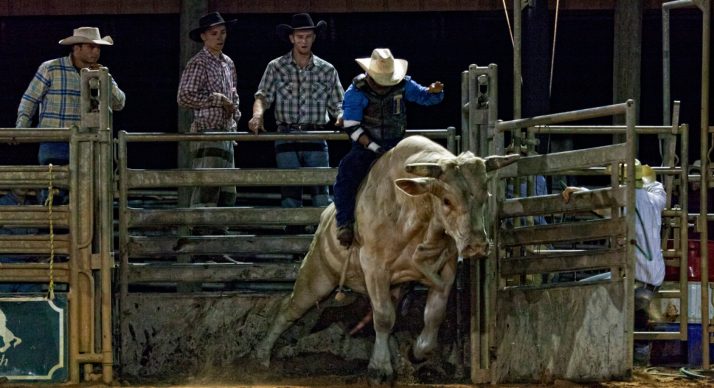 There truly is so much to see and do at the Westgate River Ranch Resort and Rodeo for all ages, which is what makes this property one of the best Glamping spots in the U.S.!
If you're looking to truly arrive in style and then unwind, Westgate River Ranch Resort & Rodeo boasts a 4,950-foot paved and lighted Air Strip that allows pilots to easily fly-in! The Air Strip also accommodates helicopters and has onsite fuel.