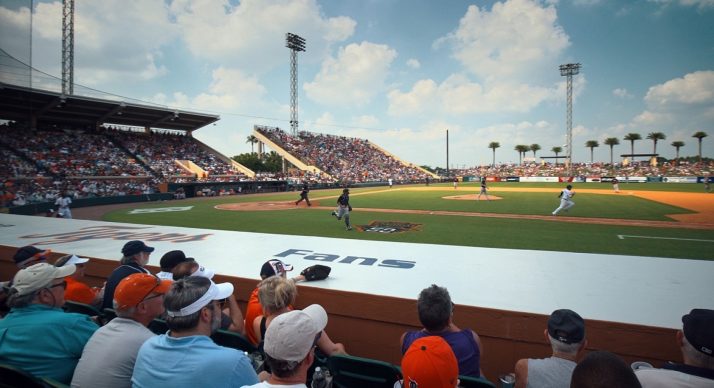 This year will be the Detroit Tigers' 86th season for Spring Training at TigerTown, extending the longest-standing relationship between a Major League team and a current Spring Training host city. The 2022 spring season will be the club's 57th consecutive season of playing at Publix Field at Joker Marchant Stadium.
Catch a Detroit Tigers Spring Training Game in Lakeland
Detroit's 2022 Spring Training schedule features 31 games, including 18 contests at Publix Field at Joker Marchant Stadium. Major League Baseball has divided the 15 Grapefruit League teams into pods based on their geographical location. The Tigers will be in a four-team pod with the New York Yankees, Philadelphia Phillies and Toronto Blue Jays, while also playing a smaller number of games against the Baltimore Orioles, Pittsburgh Pirates and Tampa Bay Rays during Spring Training.

2022 Spring Training Home Schedule
Friday, February 25 vs. Southeastern University (Exhibition game)
Saturday, February 26 vs. Washington Nationals
Monday, February 28 vs. Atlanta Braves
Wednesday, March 2 vs. Pittsburgh Pirates
Saturday, March 5 vs. Toronto Blue Jays
Sunday, March 6 vs. St. Louis Cardinals
Tuesday, March 8 vs. Philadelphia Phillies
Thursday, March 10 vs. Tampa Bay Rays
Saturday, March 12 vs. Toronto Blue Jays
Tuesday, March 15 vs. New York Yankees
Thursday, March 17 vs. Toronto Blue Jays
Friday, March 18 vs. Philadelphia Phillies
Sunday, March 20 vs. Pittsburgh Pirates
Tuesday, March 22 vs. Baltimore Orioles
Thursday, March 24 vs. Minnesota Twins
Friday, March 25 vs. Boston Red Sox
Sunday, March 27 vs. New York Yankees
Monday, March 28 vs. Tampa Bay Rays
Individual game tickets will be available for purchase starting mid-January at the TigerTown box office. For additional ticket information and special group pricing, call the Lakeland ticket office at (866) 668-4437 or visit tigers.com/springtraining.
View their full schedule at tigers.com.
Kick off your Spring Training Season by attending the traditional Tiger Barbecue at Publix Field at Joker Marchant Stadium, held this year on February 23rd.