Kids can "become the ninja" in their very own LEGO® NINJAGO® [NIN-JAH-GO] adventure when they enter a magical, martial arts kingdom at LEGOLAND® Florida Resort.
LEGO NINJAGO World adds an immersive land filled with several hands-on, outdoor activities where kids can sharpen their ninja skills before the ultimate showdown on LEGO NINJAGO The Ride, a dazzling new attraction that blends 3D computer animation, "4D" special effects such as heat, fog and strobe lighting, and groundbreaking interactive technology never seen outside a LEGOLAND theme park.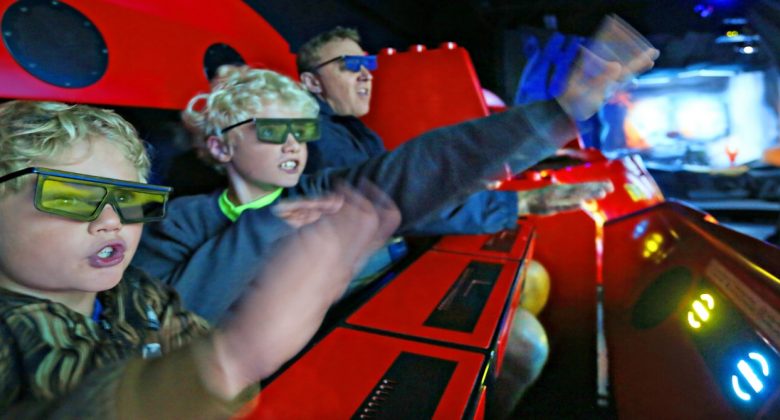 Inspired by the popular LEGO building sets and the "LEGO NINJAGO: Masters of Spinjitzu" TV show, LEGO NINJAGO World puts guests at the center of the action in lots of fun ways:
LEGO NINJAGO The Ride – A state-of-the-art "dark ride" where guests score points using ninja hand moves to blast animated fireballs, lightning and more at waves of 3D villains. Children under 48 inches tall must ride with a responsible person 48 inches or taller who can ensure their safety.
Zane's Temple Build – A LEGO building experience where kids can contribute to a giant model of the mountaintop NINJAGO monastery with bins of loose LEGO bricks.
Kai's Spinners – Master the ancient art of Spinjitzu at these twirling, whirling, single-child platforms; recommended for ages 5-12.
Cole's Rock Climb – A horizontal, right-to-left climbing wall to test kids' strength and endurance; recommended for ages 2-12.
Jay's Lightning Drill – Practice precision and reflexes by pressing as many light-up targets as possible in 30-second sessions; recommended for ages 2-12.
The lushly landscaped area also features large LEGO models of LEGO NINJAGO heroes, Kai, Jay, Cole, Zane, Lloyd, Nya [NEE-AH] and Master Wu, daily meet-and-greet opportunities with sibling ninja Kai and Nya, and Wu's Warehouse, a themed retail shop filled with LEGO NINJAGO building sets, children's apparel, costumes, books, souvenirs and more.
KIDZ BOP, the No. 1 music brand for kids, recently joined with LEGOLAND Florida Resort to create an exclusive music video for the high-energy "LEGO NINJAGO: Masters of Spinjitzu"  theme song, "The Weekend Whip." In the video, The KIDZ BOP Kids are joined by Kai and Nya while demonstrating five signature ninja hand moves kids can use to defeat villains and capture a high score on LEGO NINJAGO The Ride:
The Cobra: Hold your fingers like a snake's head, then strike your arm forward.
Chops of Fury: Hold both hands in front of you, palms facing, and do quick karate chops.
The Fireball Flinger: Clench your hand into a fist, then thrust your arm forward while opening your fingers.
The Lightning Strike: Hold your arm at a slant and chop.
The Shuriken [SHUR-IH-KEN] Shuffle: Hold both hands in front of you, palms down, with your arms bent so they touch your chest. Chop outwards repeatedly.