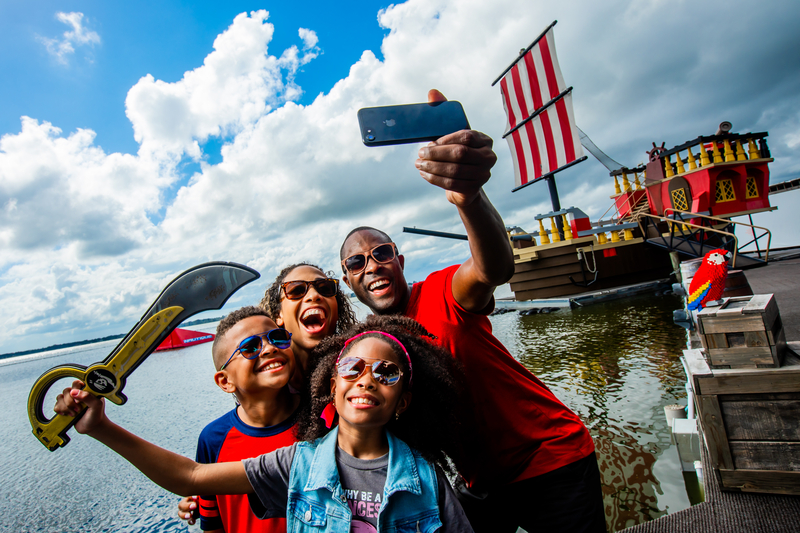 PirateFest Weekends at LEGOLAND Florida Resort in Winter Haven celebrates all things Pirates during weekends from January 21st – February 19th. Captain Redbeard is returning ashore from his adventures to recruit the best of the best in the latest class of pirates. His ultimate mission: take over LEGOLAND® Theme Park to bury his treasure. Junior Pirates and their crew will be recruited to join the fun with character meet and greets, pirate-themed shows, LEGO® build activities an epic adventure and more!
PirateFest at LEGOLAND Florida Resort
Set Sail Through Uncharted Waters on the ALL-NEW Pirate River Quest
Set sail with a rowdy crew of LEGO® pirates on Captain's orders to explore the murky waters and retrieve the lost treasure, stolen by a troop of mischievous monkeys.
Journey through the uncharted waters of the legendary Cypress Gardens and discover the secrets protecting its canals, as this all-new story unfolds brick by brick into a family-friendly treasure hunt. Adventure awaits you at LEGOLAND® on the Pirate River Quest, opening 1.12.23.
Brickbeard's Watersports Stunt Show
This epic show features gravity-defying stunts, choreographed to an original score of "punk pirate" tunes. Named by LEGOLAND Florida's social media fans and co-developed with LEGO masterminds, the cunning and fierce female pirate, "Calico Jade," joins fan-favorite Captain Brickbeard as he whips his crew of recruits into shape through a series of thrilling stunts on the seas. World-class wakeboarding, barefoot skiing, jump acts and an all-new flyboard act take this high-energy show to heroic heights above the legendary Lake Eloise.
PirateFest Weekends
Aside from Brickbeard's Stunt Show & the ALL-NEW Pirate River Quest, you can join in the Quest for Riches as little brigands explore exciting lands  – from the jungle of Pirate's Landing to the underwater Sunken Ship Lagoon, then end the quest at the bustling Heartie's Harbor. Collect all the stamps and get the treasure.
Crafty crews can play like pirates with LEGO character meet-and-greets. Fine buccaneer recruits like you, will have the chance to meet-and-greet with Captain Redbeard and his loyal friends. Don't miss the perfect chance to steal ye special pirate selfie before they face the blue ocean!  

LEGOLAND® Pirate Island Hotel
The party continues long after the Park closes when families stay onsite at the all-new LEGOLAND Pirate Island Hotel. Located just 130-kid steps away from the front gate, this adventure-packed hotel is the ultimate family destination for a long weekend or vacation, and every stay at Pirate Island Hotel includes a free family-style breakfast, nightly pirate fun and in-room treasure hunts.

These can't-miss events are included with general admission. Buy LEGOLAND Florida Resort tickets.