The number one theme park for little kids is opening new attractions and hosting lots of great seasonal events throughout 2023, so check out our list of Top 10 Reasons to Visit LEGOLAND® Florida in 2023, and get ready for some brick-tacular fun!
2022 is shaping up to be a fantastic year at LEGOLAND Florida. Between the Pirate River Quest, a new and improved Miniland, and an even more spook-tacular Brick-or-Treat, you won't want to miss out. Find special discounted tickets though Visit Central Florida, or if you're looking for year round LEGO® fun buy a great value annual pass through LEGOLAND.
Top 10 Reasons to Visit LEGOLAND Florida in 2023
1. Pirate River Quest – New!
An exciting new adventure awaits you at LEGOLAND on the Pirate River Quest, starting November 2nd! Journey by boat through the uncharted waters of the legendary Cypress Gardens and discover the secrets protecting its canals, as this all-new story unfolds brick by brick into a family-friendly treasure hunt.
2. Miniland Shade Structures – New!
LEGOLAND's most iconic area of the park has just undergone a cool transformation! New shade structures and buildings will bring even more enjoyment to the beloved land in 2022.
3. PirateFest Weekends Events
With Brickbeard's new show weighing anchor, the entire theme park will be overtaken by his friends and LEGOLAND will be home to a pirate invasion! PirateFest, which debuted in 2021, will run for three select weekends in in January and February. Crafty crews can play like pirates with themed build activities and new LEGO® character meet & greets.
A musical show, full of adventure, will take over the LEGO City Stage, and specialty food will feed even the hungriest buccaneers. The swashbucklin' fun will be nonstop, and each merry day at sea is marked with a dance parrrrty like no other! See dates.
4. The LEGOLAND Story – New!
Discover the unexpected story of LEGO and LEGOLAND Florida in this wonderful new attraction. Take a journey through the LEGO story, see the original LEGO minifigs, see master builders at work in their workshop, visit the AWESOME interactive mini figure trading wall, and see an original rollercoaster car from Cypress Gardens. Everything you wanted to know about LEGO and LEGOLAND in one place!
5. LEGO NINJAGO® Days
Find your inner ninja at LEGO Ninjago Days, on select weekends in May. Show-off your LEGO ninja skills with special themed activities, ride the Ninjago ride, and meet your favorite Ninjago character.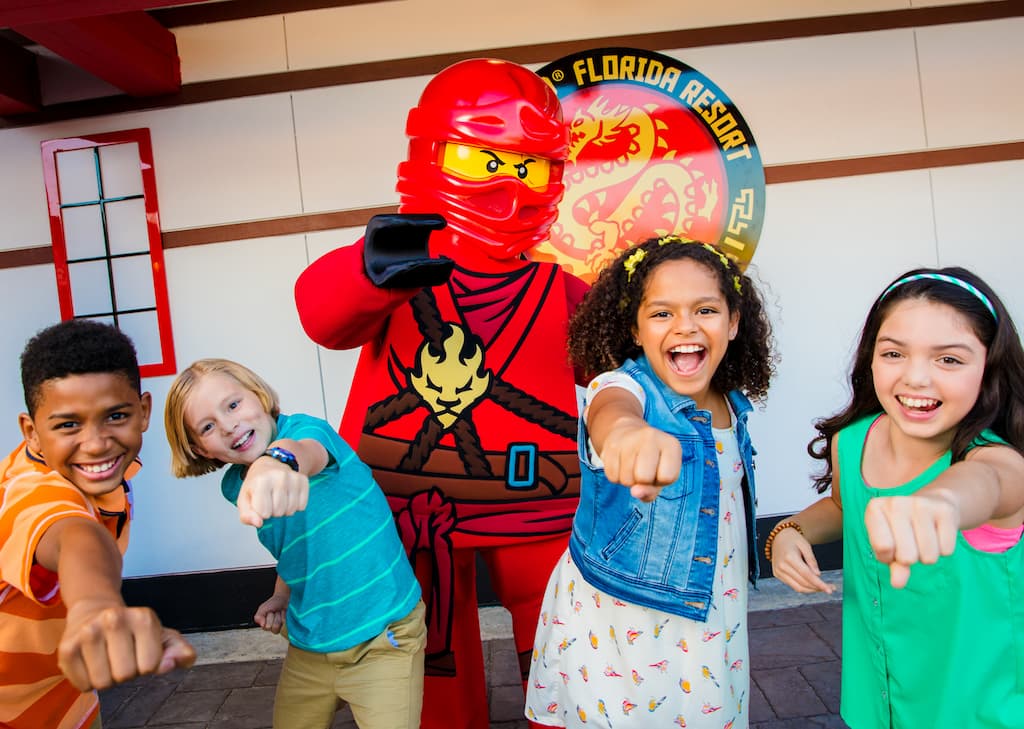 6. Expanded Summer Celebration – Awesummer
This year will bring the longest summer celebration ever with 6 weeks of AWESUMMER fun! Party through the summer at LEGOLAND Florida Resort with surprises around every corner, including festive "streetmosphere," music, and exciting fireworks on select dates in June and July.
7. LEGOLAND Coffee Company – New!
A wonderful new café has opened at LEGOLAND Florida! Grownups here you'll find flash-chilled iced coffee, fluffy pastries, delicious hand-held breakfast sandwiches, and plenty of season treats. A great way to start your LEGOLAND adventure!
8. Heroes Weekend
This September you can be a hero too, at LEGOLAND's Heroes Weekend. Presented by the National Fire Protection Association, at this special event you can learn all about safety and the heroes that keep us safe, in a fun, playful way with a variety of activities and character experiences.
9. An Even More Spooktacular Brick-or-Treat
The biggest ever Halloween Brick-or-Treat comes to LEGOLAND Florida this year! Presenting an all new show lineup, new LEGO characters, and a new cinematic adventure. Bring your costume for simply the best non-scary Halloween celebration ever!
10. Holidays at LEGOLAND
The most wonderful time of year brings a special holiday celebration to LEGOLAND. With spectacular light show, giant Christmas tree, seasonal shenanigans, special treats and lots more!

11. LEGO® City Space Experience – New!
Ok, so we've made it a 'Top 11'. But we just love the new LEGO City space experience, located in the Imagination Zone. They need your help building rockets and rovers which could be used to conduct scientific research for NASA's incredible new Artemis mission. Are you up for the challenge?
The Peppa Pig Theme Park
Something has just opened just steps from the park! One of the world's most popular characters for little kids now has her first ever theme park. Peppa Pig Theme Park is sure to delight all the little piggies out there in this charming new land, featuring 6 new rides, lots of great play areas, and special accessibility features. Find out more on our Peppa Pig blog. Vacation packages that include Peppa tickets and stays at one of LEGOLAND's hotels are available through the LEGOLAND website.
You may also be interested in 5 Things to do Near LEGOLAND Florida for kids, and LEGOLAND Pirate Island Hotel.