All little piggies and parents of little piggies can squeal in delight as the world's first Peppa Pig Theme Park is now open, in Winter Haven, Central Florida! Find out all you need know below!
Peppa Pig Comes to Central Florida!
Located only steps from the entrance to LEGOLAND® Florida, in Winter Haven, the Peppa Pig Theme Park is an immersive experience that places our littlest guests right in the world of Peppa, and her friends. In this fabulous standalone theme park, guests can enjoy six new rides designed especially for preschoolers, as well as lots of play spaces, shows, splash pads, additional attractions and character meet and greets. You also won't need to child swap, as mummy pigs or daddy pigs are able to ride along with the little ones on almost every ride.
And this is a park that goes at the pace of our littlest guests. No pressure, no big walks to get to the next ride. The perfect morning or afternoon for your pre-schooler!
Oinktastic Rides and Attractions!
Daddy Pig's Roller Coaster
Take a ride with Daddy Pig in his recognizable red car and go on an unexpected adventure when Mr. Bull's "digging up the road" sends you on a curvy exploration of Daddy Pig's new short cut! This family-friendly thrill ride is the perfect first roller coaster for brave "little piggies"!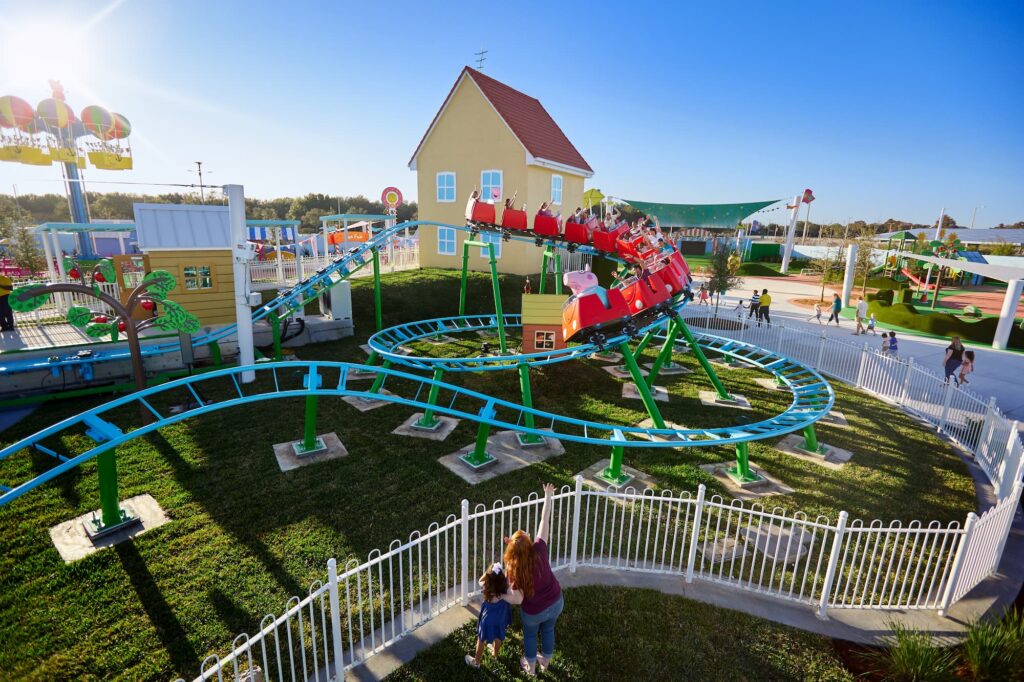 Peppa Pig's Balloon Ride
You won the Fun Fair raffle! Now ride to the sky with Peppa Pig and your family in Miss Rabbit's hot air balloon as your prize! Enjoy the view from the very top, it's brilliant!
Grandad Dog's Pirate Boat Ride
Anchors away! Sail with Grandad Dog on this family boat ride to find his hidden treasure.
Grampy Rabbit's Dinosaur Adventure
Take a ride on a friendly dinosaur and discover prehistoric surprises around every corner of Grampy Rabbit's Dinosaur Park! Parents can ride along with their little explorers on this epic dino quest!
Peppa's Pedal Bike Tour and George's Tricycle Trail
Little ones will pedal their way through a camping adventure in the woods, through the icy mountains to see the sights, smells and sounds of the great outdoors! Smaller cyclists can enjoy George's shorter pedal path adventure on tricycles built just for them!
Mr. Bull's High Striker
Once the hammer hits the bell on Mr. Bull's High Striker, your family will bounce up to the sky. Hold on tight and be prepared for a surprise because, after all, what goes up, must come down!
And don't forget, the Peppa Pig Theme Park will have lots of additional attractions and play spaces including a Muddy Puddles Splash Pad, George's Fort, Peppa Pig's Treehouse, a Fun Fair, Rebecca Rabbit's Playground and lots more!
Accessible Ride Vehicle and Certified Autism Center
Peppa Pig Theme Park wants to make sure that all little piggies can get in on the oinktastic fun, and has a newly designed ride vehicle for children with wheelchairs.  On the Peppa Pig Balloon ride, kids can enjoy the ride from whimsical baskets, crafted to look like a hot air balloon and are specially designed to allow children who use wheelchairs to roll on to the "balloon basket" without needing to transfer from their wheelchairs. Other areas such as the park's marquee water play attraction, the Muddy Puddles Splash Pad has been developed with wheel-chair accessibility in mind. Peppa Pig Theme Park is also partnering with The International Board of Credentialing and Continuing Education Standards (IBCCES) and is as a Certified Autism Center (CAC)!
Tasty Treats at Miss Rabbit's Diner
A delightful menu of kid-friendly foods awaits at the all-new Miss Rabbit's Diner. Miss Rabbit's Diner is a sit-down quick-service location that will offer a satisfying selection of American bites from classic family favorites and handheld sandwiches to an assortment of fresh healthy choices and delicious desserts. Plenty of indoor and outdoor seating!

Download the Attraction Map
Find your way around the new park and get a sense of the space, with the new map of the park. Download it here, and print it out or keep it on your phone!
Tickets, Vacation Packages, and Reservations
The park is now open and tickets are available! Vacation packages, a fantastic all-inclusive offer, and a third night free promo are also available. These include a stay at either LEGOLAND Hotel, or LEGOLAND Pirate Island Hotel (both located just steps away). Ticket options include Peppa Pig Theme Park access only (from $34.99), or combo tickets also including access to LEGOLAND Florida and water park. And if you're looking for year-round muddy fun, you can now find Annual Passes online. For more information, and to make reservations visit peppapigthemepark.com
You may also be interested in 5 Things to Know Before You Visit Peppa Pig Theme Park, and Bonnet Springs Park.